TRANSFORMING LIFE TOWARDS BETTER LIVING
Jodas Expoim is a well-integrated research-driven biopharmaceutical manufacturing company, developing intellectual property through technology acquisitions, collaborative networking, and vibrant in-house R&D programs, also has robust research and development pipeline for biosimilars with platform-driven technology and leading manufacturing capabilities to manufacture and commercialize innovative products related mainly to immuno-oncology and autoimmune-related disorders. Our Bio-technical department consist of a young, dynamic multidisciplinary team with Biotechnology, Microbiology, Biochemistry, and Bio-chemical engineering background with expertise in Biosimilars development, manufacturing, and commercialization backed by visionary leadership. We intend to develop effective biosimilars monoclonal antibodies and other recombinant biotherapeutics to meet the utmost medical needs of the common man.
Established in Biotech Park Phase III in Hyderabad, India, in 2020, Jodas Expoim is committed to providing high-quality biologics that are accessible and cost-effective for patients globally. Spread over 20,000 SQM, our state-of-the-art facility possesses advanced capabilities such as development, manufacturing, pre-clinical and clinical programs for biotech products. A cGMP facility for cell culture-based biotherapeutics, both Drug Substances and Drug Products.
The State of the Art Biotech Facility :
The state-of-the-art R&D Centre is dedicated to develop novel, effective and affordable Biopharmaceuticals for the prevention and cure of life-threatening diseases for India and global markets.
R&D Centre has the infrastructure to carry out extensive research in biotherapeutics using genetic engineering, molecular biology, genomics tools, animal cell culture, fermentation, purification, formulation, serology, and analytical testing techniques.
R&D Centre has the infrastructure and expertise to take an idea through different stages of product development towards successful commercialization.
R&D Centre's focus is on the development of preventive and therapeutic biopharmaceuticals, novel therapeutic proteins, growth factors, hormones, and therapeutic monoclonal antibodies for treating infectious diseases and lifestyle-related disorders.
The R&D center located at Biotech Park Phase III in Hyderabad, India is spread over 500 square meters of area and equipped with all modern equipment for the process development of recombinant biotherapeutics.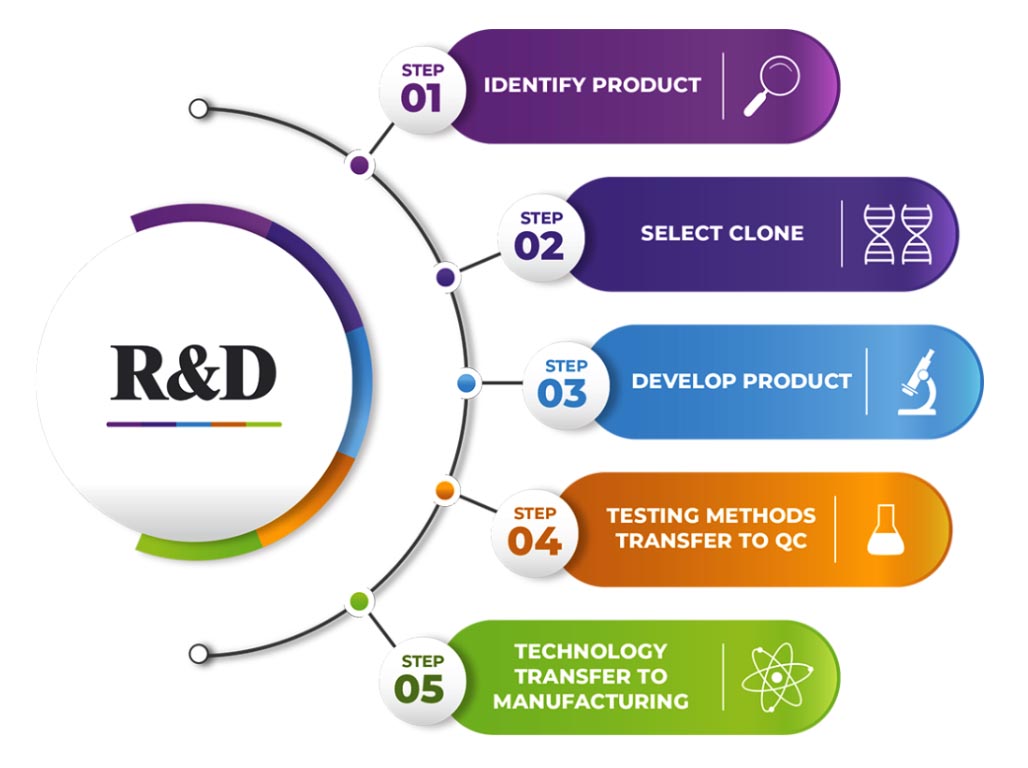 The R&D center having well classified laboratories to handle different stages of development of Biotherapeutics –
Molecular Biology lab
Upstream process development and scale up lab
Downstream process development and scale up lab
Analytical method development lab
Bio Assay development lab
Major Equipment available to support the process development, optimization, scale up and validation
Eppendorf Bioreactor
AKTA Pure and AKTA Pilot Chromatography systems
TFF systems
Lyophilizer
Waters HPLC with UV & FL detectors and UPLC
Biorad RT-PCR
Biorad Electrophoresis and Western blot apparatus
Stability chambers
Multimode Spectrophotometer with fluorescence detector
Biosafety Cabinet (BSL II)
Bio profile analyzer
CE-SDS &CE-IEF
UV-Visible spectrophotometer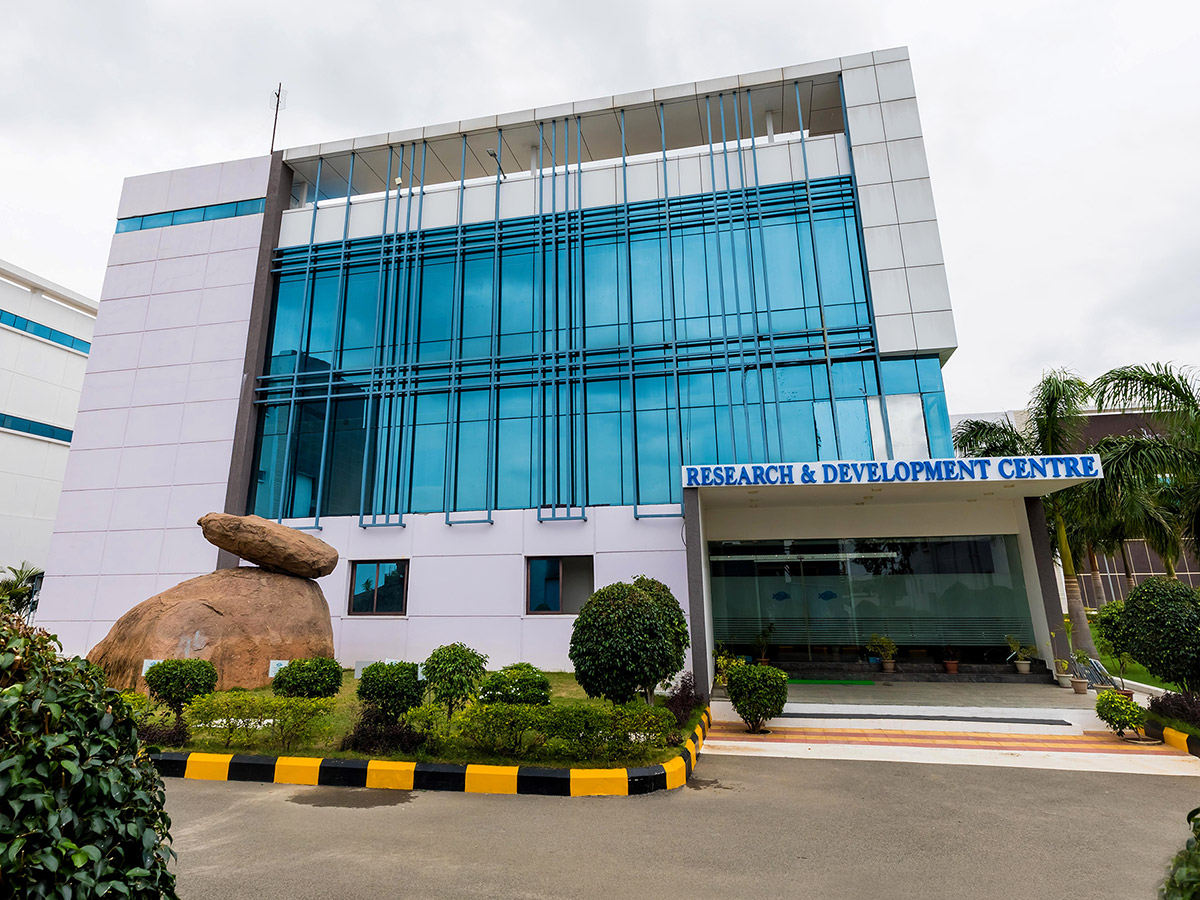 Clone development with proven platform technology.
Process development from R&D to Pilot scale
Batch, fed-batch, and perfusion strategies for biosimilars products
Downstream Process development with modern chromatography systems, Ultrafiltration-Diafiltration systems and Lyophilizer
Process and Product characterization
Process Scale-up and tech transfer to cGMP manufacturing plant
Formulation development
Analytical method development, qualification and validation
Bioassays development qualification and validation
Drug Substance and drug product stability studies
Product characterization
Our pipeline of biosimilars
Main focus is on Cytokines, Growth Factors and therapeutic Monoclonal Antibodies.
Our robust pipeline of 7 biosimilars (products produced by recombinant DNA-technology in Chinese Hamster Ovarian cell lines) are at various stages of development, from process development to pre-Clinical stage. However, the following three are at advanced stages of development-
1. Pertuzumab – For treatment of Breast Cancer
2. Pembrolizumab and Nivolumab – PD-1 antagonists.
3. Atezolizumab – PD-L1 antagonists.
Our Manufacturing Capabilities
Manufacturing of cell culture based biotherapeutics under cGMP conditions, both Drug Substances and Drug Products
The manufacturing facility is built to meet the EU-GMP and USFDA regulatory requirements
The manufacturing facility is spread over 1,800 SQM and located at Biotech Park Phase III in Hyderabad, India
Dedicated State of the art cGMP facility with all modern equipment to run the manufacturing process of biotherapeutics in a seamless manner
The finished product in pre-filled Syringes and Vials
State of the art QC lab for release test of drug substances and drug products
Superior cold chain system for maximum care in storage and supply of products
Well establish Quality Management System (QMS) at various levels
Manufacturing Infrastructure
Bioreactor – Trains of 10L, 100L, 500L and 1000L for seed preparation to production for clinical trial requirement and commercial manufacturing of bulk drugs
Integrated Downstream set up with modern chromatography systems, depth Filtration unit, TFF and lyophilizer for purification and production of drug substances
Fill-Finish Facility for liquid formulation in Pre-filled Syringes and Vials
Fill-Finish Facility for Lyophilized formulation in Vials
Dedicated utilities: HVAC, Water systems-PW, WFI, PSG and compressed air, etc.
In process testing Labs and Warehouse